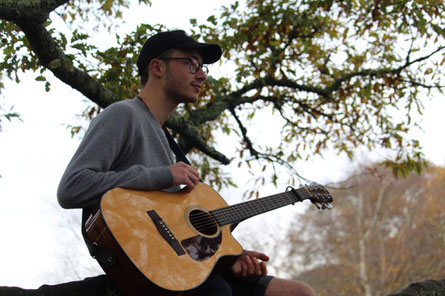 A young and very talented artist I would like to introduce to you today is Duncan Covey. 
His single The Flame was released on Friday and is now available on all music services.
Duncan (22) is a modern Singer Songwriter who writes beautiful melancholic indie/folk songs. His music is inspired by songwriters like Toby Johnson, Dermot Kennedy, Wild Rivers and Passenger. His previous single Buckle In was released in March this year and has received over 30k streams on Spotify alone.
He was born and raised in England/Cornwall. In his free time he dedicates himself as often as possible to his greatest hobby, songwriting.
To escape from his desk in between, he's driven into nature where he indulges his second passion: outdoor sports! Walking, running, cycling, surfing, etc.. He loves to take part in extreme sports competitions from time to time. During his sport and exercise science studies at the University of Bath he was fortunate to meet like-minded musicians and to be able to play with them as a band.
Following people play in Duncan's band (guitar/vocals), Ellie (electric guitar), Ash (keys), Kai (bass), Zoe (cello) and Pete (trumpet). Duncan meets with some of them at irregular intervals and they work on  Duncan's new song ideas. Recently Duncan and Ellie started songwriting together – look out for future releases!
Due to Corona the whole band was only allowed to rehearse together for a short period of time which is a nightmare for everyone. They're looking forward to finally being able to perform together again.
This track was written by Duncan, who planned the structure of the piece, but each musician adapted to add their own taste and musical knowledge to create a finished song.
It was recorded in many separate sessions, with each musician recording separately with Duncan to add their parts! Within one week everything was recorded, then quickly mixed and mastered by Duncan. All this was recorded and produced in a simple bedroom studio!
The Flame is a very soulful and beautiful song that captures the listener with its harmonious sounds.It's about discovering and capturing great love. His lovely lyrics merge with the timbres of his soothing voice. A sensation that at the beginning only feels quite undefined, develops after 1 minute 45 seconds into a great unimagined sound experience.
This time he very successfully integrates piano and brass instruments into the piece. 
It gives the single a special quality and depth. 
All the best for you 
.